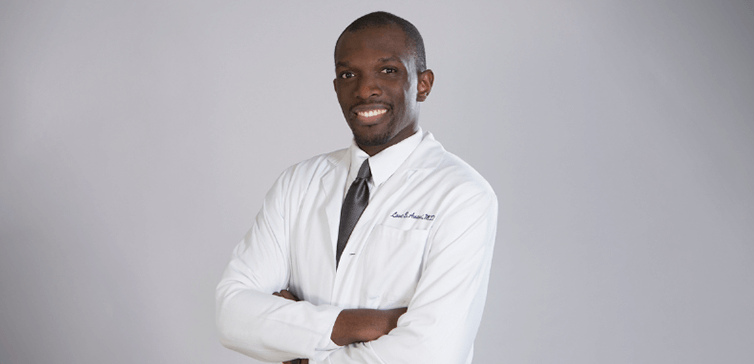 Dr. Love Anani, a board-certified Emergency Medicine Physician currently serving as the Emergency Department Medical Director of NorthCrest Medical Center for American Physician Partners, has been awarded a seat on the Student National Medical Association (SNMA) Board of Directors at the 2022 SNMA Annual Medical Education Conference (AMEC).
This past April, Love Anani, MD was elected to the position of Professional Board Member at the 2022 SNMA AMEC, which is consistently the largest gathering of underrepresented minority medical students across the nation. The theme of the 2022 AMEC was: The Emergence: Achieving Purpose Inin An Era Of Health Advocacy, Equity, and Reform. With more than 1,500 medical and pre-medical students, physicians, exhibitors, administrators, government officials, and observers in attendance, this was a huge honor for Dr. Anani to be elected to his new position.
Early Career
Dr. Anani graduated from Howard University College of Medicine in 2012 where he was an active member of the Student National Medical Association and held a seat on the National Board of Directors his 3rd and 4th years. Post-graduation, he completed his Emergency Medicine Residency at Central Michigan University where he was named co-chief resident from 2014 to 2015. Throughout his residency, Dr. Anani continued his work with SNMA, as well as mentored with the Tour for Diversity (T4D) where he traveled to various colleges and universities to speak with and encourage students of color to achieve their goals in medicine. In 2015, Dr. Anani started his job with APP and quickly became the assistant medical director. Less than a year after beginning his job, Dr. Anani was named medical director of his site. On top of his job with APP, Dr. Anani became involved in community service and patient centered care in Robertson County, where he was named the Medical Director for Robertson County EMS in 2017
Life Today
As an attending, Dr. Anani continues to work with T4D giving talks on topics including diversity, inclusion, and student retention. He also takes time to educate others in his community on medical topics such as sepsis, sudden cardiac death, stroke, and other emergency medical issues. Dr. Anani is married to his HUCM sweetheart, Dr. Uchenna Anani, who practices Neonatology at Vanderbilt University Medical Center, and in his free time enjoys gaming, sports, and watching TV and movies with his wife.