This quarter we'd like to recognize Dr. Brad Blaker, Medical Director at McLaren Bay Region, for demonstrating Leadership in Action. I would like to start by naming Dr. Blaker as our APP Sepsis Champion for 2018! As the leader of our Champions for Sepsis quality initiative, he has done a remarkable job building our Sepsis Toolkit for our medical directors to enhance their department's performance with the CMS SEP-1 quality measure. His leadership and outreach throughout APP has played a significant role in our successful adoption of key sepsis protocols and overall reduction in sepsis mortality throughout our hospital partners.
In addition to his Sepsis role with APP, Dr. Blaker has demonstrated exceptional leadership of the ED team at McLaren Bay Region during a time of transition. A relatively new client for APP, Dr. Blaker quickly built relationships and led the team to support a number of key hospital initiatives. Excited about their partnership with APP and Dr. Blaker's leadership, the hospital released this article announcing the relationship.
Dr. Blaker exemplifies the characteristics of an APP medical director, assuming responsibility for the ED and its role in key hospital quality initiatives, building a team of high-performing providers, and enhancing the hospital's reputation within the community. It is my distinct privilege to honor Dr. Blaker for his Leadership In Action.
"The key part of a medical director's job is to get physicians, staff, and patients all operating as a team. Dr. Blaker has that ability. He's able to put on his administrative hat and understand the requirements for all our metrics while making sure things are done right. But more important, he's able to connect those things to the frontline of the emergency department and everything in between: from what's happening on the floor, to what's happening with surgical specialists, to building relationships with patients. Bridging those gaps and executing the various elements across teams takes a certain kind of leader, and Dr. Blaker has demonstrated that he is that kind of leader." Clarence Sevillian, President & CEO, McLaren Bay Region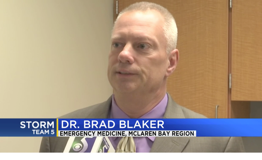 Dr. Blaker being interviewed for the WNEM local news channel for a segment called "Icy road conditions cause uptick in slip and fall accidents, helping to position McLaren Bay Region as a leader in its community.